Malaysia Struck by Haze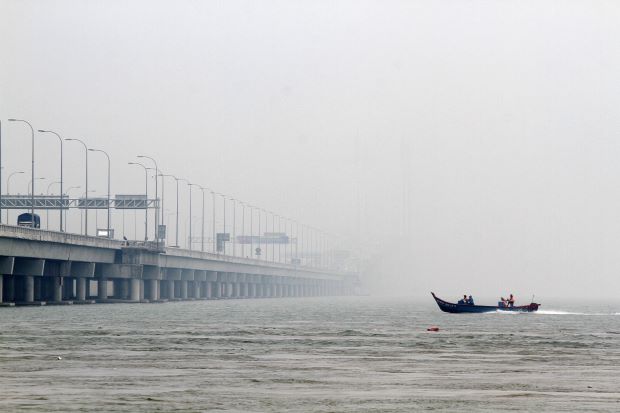 15 September 2015
Several Southeast Asia countries including Malaysia once again have to suffer the haze caused by the illegal forest fire activities by paper and palm oil companies which occurs every year in Indonesia. Several states in Malaysia that recorded an unhealthy API reading which exceeded 100 as of 16 September 2015 were Jerantut and Kuantan, Pahang with 101 and 124 API reading respectively while Shah Alam, Selangor recorded 108 API reading. In Terengganu, several places with unhealthy air were Kemaman (124), Kuala Terengganu (101) and Paka (120). In East Malaysia, several places has recorded unhealthy API reading; Tawau-Sabah (122) and Sibu, Samarahan, Sarikei and Sri Aman in Sarawak recorded an API reading of 133, 143, 145 and 164 respectively.
Several places that recorded a good API reading (0-50) were Kangar-Perlis with an API reading of 27, Perai-Penang and Alor Star-Kedah with 30 API reading, USM- Penang (42), Tanah Merah-Kelantan (48) and Tanjung Malim-Perak (46).
Other places that recorded a moderate API reading (51-100) were Kota Kinabalu-Sabah and Kota Bharu-Kelantan with an API reading of 52, Ipoh-Perak 55, Kota Tinggi-Johor (59), Seremban-Negeri Sembilan (75), Putrajaya-Wilayah Persekutuan (82), Petaling Jaya-Selangor (97), Bandaraya Melaka-Melaka (98) and Indera Mahkota-Pahang (98), Bintulu-Sarawak (99).

On 15 September 2015, The Malaysia's Education Minister, Datuk Seri Mahdzir Khalid has ordered all schools in Selangor, KUALA Lumpur, Putrajaya, Negeri Sembilan and Melaka to be closed following the alarming API reading of more than 200. People are advised to cut down their outdoor activities to avoid from coming into contact with the unheatlhy air which can affect their respiratory system as well as drinking a lot water to stay hydrated.
For more information about the current API readings of the day,visit Malaysia Department of Environment website .
Photo courtesy: The Star